Hello world, and once again, here's what you missed in the world of
wrestling
entertainment.
Draft
In case you've been out of the loop, here are the picks from the draft, starting with Smackdown to Raw:
Jack Swagger, Kelly Kelly, JTG, Drew McIntyre, Curt Hawkins, Chris Masters, Kofi Kingston, Tyler Reks, Beth Phoenix, Rey Mysterio, The Big Show, Alberto Del Rio.
Moving to Smackdown from Raw:
Daniel Bryan, The Great Khali , Jimmy Uso, Alicia Fox, William Regal, Yoshi Tatsu, Natalya, Jey Uso, Ted DiBiase, Tyson Kidd, Tamina, Alex Riley, Sheamus, Randy Orton, Mark Henry, Sin Cara
. So Orton moves on to replace Edge as the top face, Del Rio gets to play on the A Show, and Sin Cara gets to be on the show where he can be edited.
Batista won't be in Strikeforce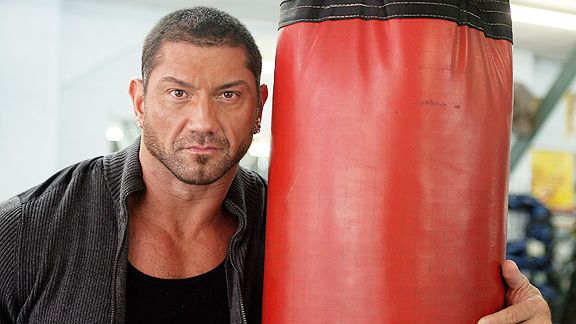 Dave Batista recently told TMZ that his deal with the Strikeforce MMA company have fallen through. Batista was training in hopes of a fight early this year, and up until his loss and leaving Strikeforce, Bobby Lashley was his rumored opponent. Dave says the recent purchase of Strikforce by Zuffa is to blame. So start your "Next TNA Champ" jokes and let the speculation begin on whether or not The Animal will return to the WWE.
Punking Out?
Rumor has it that CM Punk's contract with WWE is expiring soon and he's debating on whether to reup or not. I know how these rumors go, but if it is true, Punk may be on the way out. He would most likely be taking some time off to heal and recover from burnout. Being Straight Edge and having all those injuries can't be good on his body. I personally hope he goes the Big Show/Chris Jericho route and just takes some time off and makes his return when he is ready. Richard Gray is reporting that the WWE put Punk's girlfriend Beth Phoenix on Raw to appease him and sway him into their good graces so he'll sign a new contract. This will be a story to watch.
Jim Ross was injured on Monday night when Michael Cole's tooth went straight into his hand all the way to the bone. Ross said doctors will be keeping a close eye on it to make sure there is no infection, but he will be wrestling entertaining at Sunday's Pay Per View.
Stone Cold Rick Roll
The video of the week.
Slick Ric is going to have shoulder surgery. NO he's not. Is he? Tazz said yes, JR said no, Tazz said ooops, nevermind, bad info.
Who to follow on Twitter
Randy Orton
is this week's selection. He's sarcastic, funny, and not at all the punt crazy Viper he plays on TV. 3 of his best:
Point being, instead of taking offense to someone using your move, consider it a sign of respect.
A kid just rang our door bell and ran. He jumped in a white car. Unfortunately for him, I have 8cameras covering every angle of my home...
I saw her backstage and said hi, took a picture with her. Tried to get a convo going, but the kid had know idea wut to think! (On meeting Angry Miz Girl.)

Social Media Spotlight
You've heard it a million times now, Zack Ryder is getting himself over on Youtube. If only WWE would listen. Here is the latest episode of Z True Long Island Story.
That's it for this week. Don't forget Extreme Rules is this Sunday. Follow me on Twitter
@CMJarrod
, and have a great weekend.